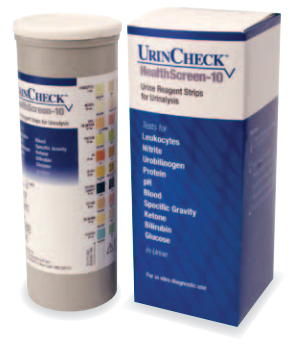 UrinCheck™ HealthScreen-10 Reagent Strips - CLIA Waived - 100pcs
Save

Liquid error (snippets/product-badge line 32): Computation results in '-Infinity'

%
UrineCheck™ HealthScreen: 10 urine reagent strips are firm plastic strips to which several different reagent areas are affixed. Depending on the product being used, UrineCheck™ HealthScreen-10 urine reagent strips provide tests for Glucose, Bilirubin, Ketone (Acetoacetic acid), Specific Gravity, Blood, pH, Protein, Urobilinogen, Nitrite, Leukocytes, and Ascorbic Acid in Urine. Test results may provide information regarding the status of carbohydrate metabolism, kidney and liver function, acid-base balance, and bacteriuria. Please refer to the outside box and bottle label for the specific test parameters of the product you are using.
UrineCheck™ HealthScreen: 10 urine reagent strips are packaged along with a drying agent in a plastic bottle with a twist-off cap. Each strip is stable and ready to use upon removal from the bottle. The entire reagent strip is disposable. Results are obtained by direct comparison of the test strip with the color blocks printed on the bottle label. No calculations or laboratory instruments are required.
Glucose: This test is based on a double sequential enzyme reaction. One enzyme, glucose oxidase, catalyzes the formation of gluconic acid and hydrogen peroxide from the oxidation of glucose. A second enzyme, peroxidase, catalyzes the reaction of hydrogen peroxide with potassium iodide chromogen to oxidize the chromogen to colors ranging from blue-green to greenish-brown through brown and dark brown.
Bilirubin: This test is based on the coupling of bilirubin with a diazotized dichloroaniline in a strongly acid medium. The colors range from light tan to reddish-brown.
Ketone: This test is based on the reaction of acetoacetic acid with sodium nitroprusside in a strongly basic medium. The colors range from beige or buff-pink color for a "Negative" reading to pink and pink-purple for a "Positive" reading.
Specific Gravity: This test is based on the apparent pKa change of certain pretreated polyelectrolytes in relation to the ionic concentration. In the presence of an indicator, the colors range from dark blue or blue-green in urine of low ionic concentration to green and yellow-green in urine of higher ionic concentration.
Blood: This test is based on the pseudoperoxidase action of hemoglobin and erythrocytes which catalyzes the reaction of 3,3',5, 5'-tetramethyl-benzidine and buffered organic peroxide. The resulting colors range from orange to yellow-green and dark green. Very high blood concentration may cause the color development to continue to dark blue.
pH: This test is based on the well known double pH indicator method, where bromothymol blue and methyl red give distinguishable colors over the pH range of 5-9. The colors range from red-orange to yellow and yellow-green to blue-green.
Protein: This test is based on the protein error-of-indicator principle. At a constant pH, the development of any green color is due to the presence of protein. Colors range from yellow for a "Negative" reaction to yellow-green and green to blue-green for a "Positive" reaction.
Urobilinogen: This test is based on a modified Ehrlich reaction in which p-diethylaminobenzaldehyde reacts with urobilinogen in a strongly acid medium. Colors range from light pink to bright magenta.
Nitrite: This test depends on the conversion of nitrate to nitrite by the action of Gram-negative bacteria in the urine. The nitrite reacts with p-arsanilic acid to from a diazonium compound in an acid medium. The diazonium compound in turn couples with 1,2,3,4-tetrahydrobenzo(h) quinolin to produce a pink color.
Leukocytes: This test is based on the action of esterase present in leukocytes, which catalyzes the hydrolysis of an indoxyl ester derivative. The indoxyl ester liberated reacts with a diazonium salt to produce a beige-pink to purple color.
Ascorbic Acid: This test is based on the action of a complex chelating agent with a polyvalent metal ion in its higher state and an indicator dye that can react with the metal ion in its lower state to produce a color change from blue-green to yellow.
WARNINGS AND PRECAUTIONS
Urine reagent strips are for in vitro diagnostic use. Do not touch test areas of urine reagent strips.STORAGEStore at room temperature between 15°-30°C (59°-86°F) and out of direct sunlight. Do not use after expiration date.
RECOMMENDED HANDLING PROCEDURES
All unused strips must remain in the original bottle. Transfer to any container may cause reagent strips to deteriorate and become nonreactive. Do not remove desiccant from bottle. Do not open container until ready to use. Opened bottles should be used within 3 months after first opening.
SPECIMEN COLLECTION AND PREPARATION
Collect urine in a clean container and test as soon as possible. Do not centrifuge. The use of urine preservatives is not recommended. If testing cannot be performed within one hour after voiding, refrigerate the specimen immediately. Allow refrigerated specimen to return to room temperature before testing
*Product Insert